Italian glass Russian newspaper:
from 01/01/2018
Authors will stop posting to the Readers  
lost contact in 2017.
N does not want to receive majestic post again please know nhé!
TET is offline
Read LIVING NEW # 426, 02/19/2010
No wonder gifts brought clippings relating bribe
Quan Tanh bending "go Tet superiors"
[a]
Vulture subordinate offices demanding reparation:
"Offers traditional" husband on "customary gifts"!.
[b]
Enjoy full Heads pachyderm gifts
Prime bored "customary gifts", urging: – Envelopes!
[c]
Claiming lucky, youngest brother had to spend
Full implementation Comrade comrades and celebrate!
Eat? Style, customs, systems, packages …
TV: – Eat up!
Russia Italy, 16/11/2017
[a] "go Tet superior": words of the people in the country.
[b] According NEW LIFE # 426, page 22:
"Minister Prime Minister Nguyen Xuan Phuc affirmed:
government just ban a gift by public money alone, while not
restrict gifts tradition and customs "
[c] Envelope: cash, checks, remove the envelope.
GA Italian cartoonist contest (11/16/2017)
Paintings, pictures and introduction:
ACLA, AYD, Bao Tram,
THREE AREAS VIETTOON & POEMS AND PROSE
Do not be angry! Nostalgic gritted teeth LIN!
Learn kindness, qualities masters
Fleeting life, forgive! Exceptions:
Gnashing, gritting, gritting: heart worn teeth excruciating!
Russia Italy, 16/11/2017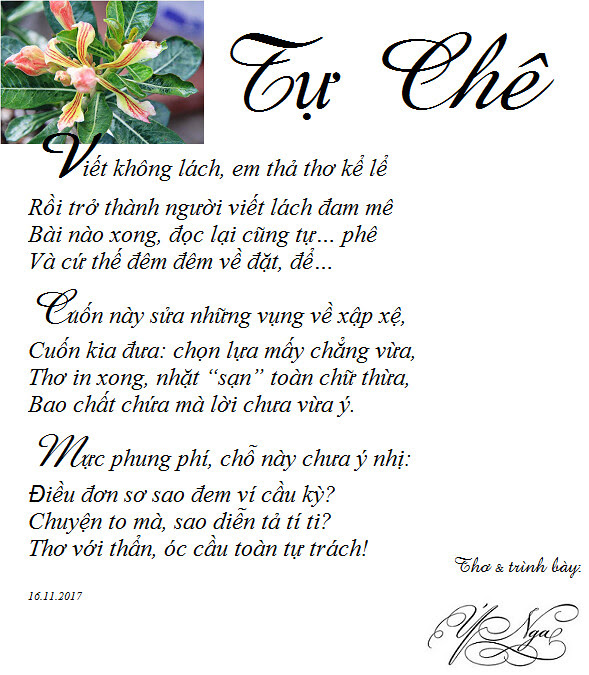 homemade
Write no spleen, you drop poetry recitation
Then became passionate writing
What song is finished, reread and self … Coffee
And so every night on set, so …
This book edited the rundown clumsy,
Other book included: choosing some such medium,
Poetry printing is complete, pick "star" full redundancy letters,
Bag that contained not a pleasant word.
Wasting ink, this place yet delicate:
Simple things such stars bring picky?
Talk to that, indescribable tiny?
Poetry with the kidneys, brain blame perfectionist!
Russia Italy, 16/11/2017
.
WALL
NATION
Do not devoured each other,
Save Mother Earth is sick!
Each treetops, feet underground
Keeping Our native, Ancestral Land
Though overwhelmed guns sky
Soldiers had contributed.
Wear Han aggressors swallow
Vietnam time is triumphant
Hold Fire and circulating
Russia Italy, 16/11/2017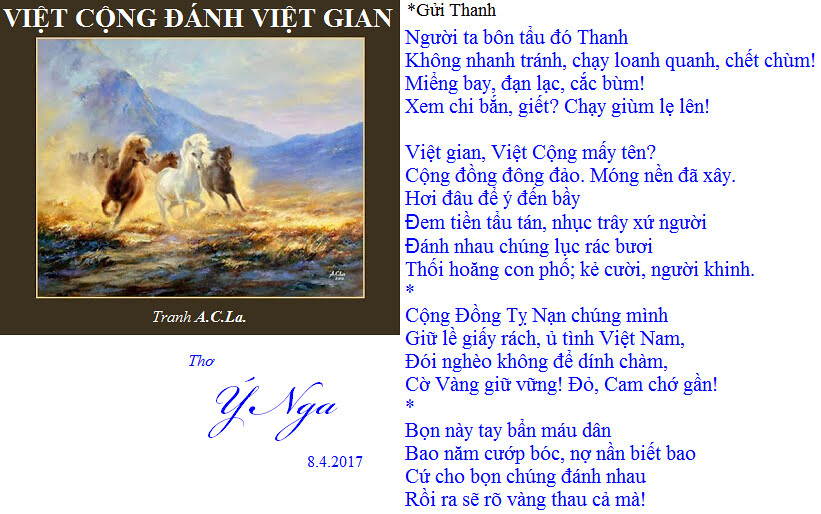 .
PAIN WHEN WRITING CENTER?
Thousands rhyme: unfortunately closed mind,
Yun: baked million trust dream!
Trade old mother, her children,
Remember how many friends
Feeling brought round vo!
Sadness, nostalgic elephants
Poetry is not enough sun tilt,
Russia Italy, 16/11/2017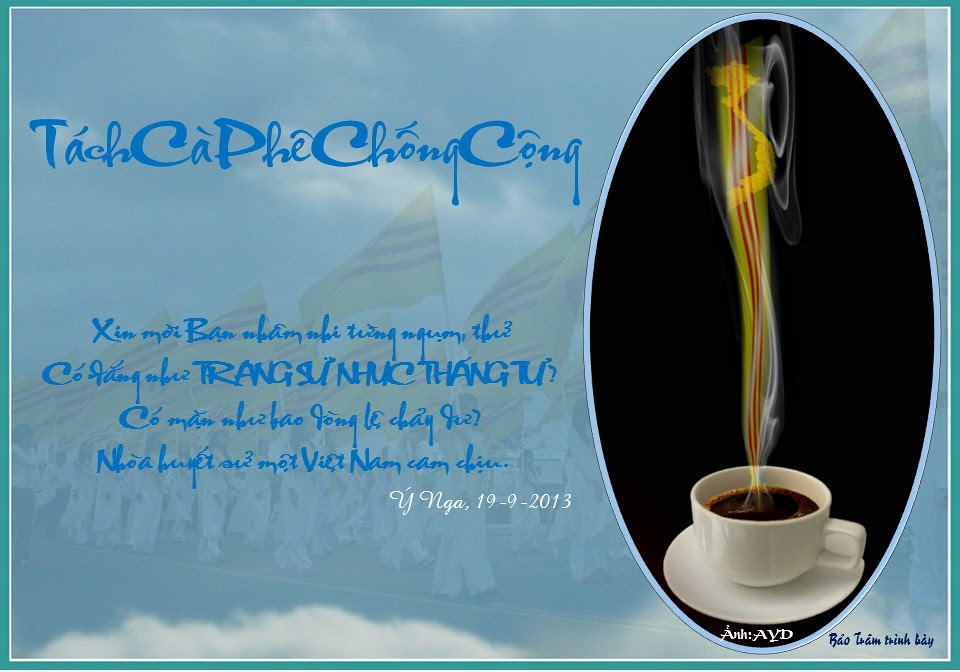 /
Descendants PARTY
Where the young heroes of old Mother Earth
With hands not move the earth and sky,
Slim and sky, the first place where the stone,
New spirit which expect to pay up?
Where academic knowledge is always reaching out to?
But decrepit, decrepit, drink all year round,
Which dissipated the "modern", lazy
Discrete pedestal body, naughty or, sleazy?
Descendants "doctor" so that much money?
How reliable, resource depletion may sell
Children swim back, who warrant husk ancestors
Rivers, mountains, the sea, the sea … the enemy gradually undiminished.
Sported school, eat delicious adept
Poisoning each other, kill wildlife hunting,
Do lightly but slobbering jubilantly
Who keeps kingdom trick mung wards, enjoy?
Lazy school, claiming the sky "figure the tool"
Diligent dissipated satiate themselves, learn to change your life
Party slack off, bringing depravity invite
Hurricane Flood tantalizing whole nation!
Russia Italy, 16/11/2017
* Marine gastropods: swamp wetland areas, many grass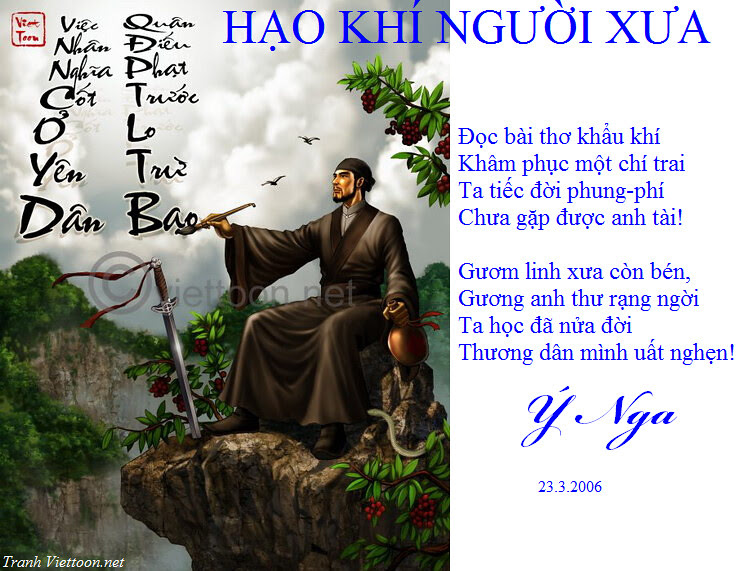 .
SPEAKING WITH CONSCIENCE
Donate your body Scout leaders were so young that always engage sacrificial service.
-Say lie was malformations
Mi add as many as confidential
But still not sweet words.
Mi wrong, we correct this word to the other
How do I send mi right that respect?
Listening, silence is the financing of mi
It is eager to win first or second nature
Should anyone mi exquisite packaging: attention.
-Minh hear! Just tell … bruised lips tongue
Do not crush, drifting intimate!
How much is the story of grievances
Night I told her about my understanding.
Out the forgiveness utility school
Practitioners, parents, who, soot: a brother.
Russia Italy, 16/11/2017
.